The 2009 National Coordinator meeting for the International AIDS Candlelight Memorial program successfully concluded recently. The first meeting of the program's national representatives took place January 30 to February 1, 2009, in Nairobi, Kenya.
The purpose of the meeting was to prepare national coordinators for their new roles and to provide an opportunity for international exchange of best practices. In sum, the meeting was dynamic and productive, drawing out ideas and feedback that will help to move the program forward and broadening participants' understanding about their mission.
The 2009 National Coordinator meeting was hosted by the Global Health Council and co-facilitated by Todd Lawrence, International Outreach Coordinator and Duncan Rollason, International Outreach Assistant of Global Health Council. Soledad Perpiñan, Third World Movement Against the Exploitation of Women- Philippines and Regional Coordinator of Asia as well as Bernadette Otieno, St. Rita's Orphan Care, Kenya and Mayowa Joel, Communication for Development Center, Nigeria- both are Regional Coordinators of Africa assisted to facilitated the meeting.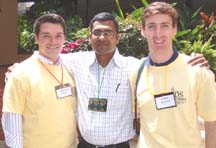 The meeting took place at the Methodist Guest House in Nairobi where participants – representing some 21 countries around the world. Mr. G M Mourtoza, Director of CCD Bangladesh took part in the important meeting as a National Coordinator of Bangladesh. All the participants were engaged in a series of sessions designed to foster discussion and learning about the Candlelight Memorial program and the national coordinator initiative. In addition to the sessions, the group visited local organizations focusing on HIV/AIDS in the Nairobi area to expose participants to how local groups are addressing the issue in Kenya. The Global Health Council is particularly thankful for support by the Ford Foundation and the Abbott Fund to host the meeting.
In this meeting, National coordinators will have an opportunity to share their ideas with the Council about the upcoming theme and poster, which the Council will share with the International Advisory Board. It was also proposed that the Council create country web pages for the national coordinators to share reports, best practices and other important information online.
The suggestion was raised that national coordinators should promote the Candlelight Memorial at other relevant international and regional meetings, such as World TB Day or the Day of the African Child.
To sustain and expand the Candlelight Memorial in countries, several members independently raised the notion of integrating the program into national frameworks and plans.